A typical patrol

.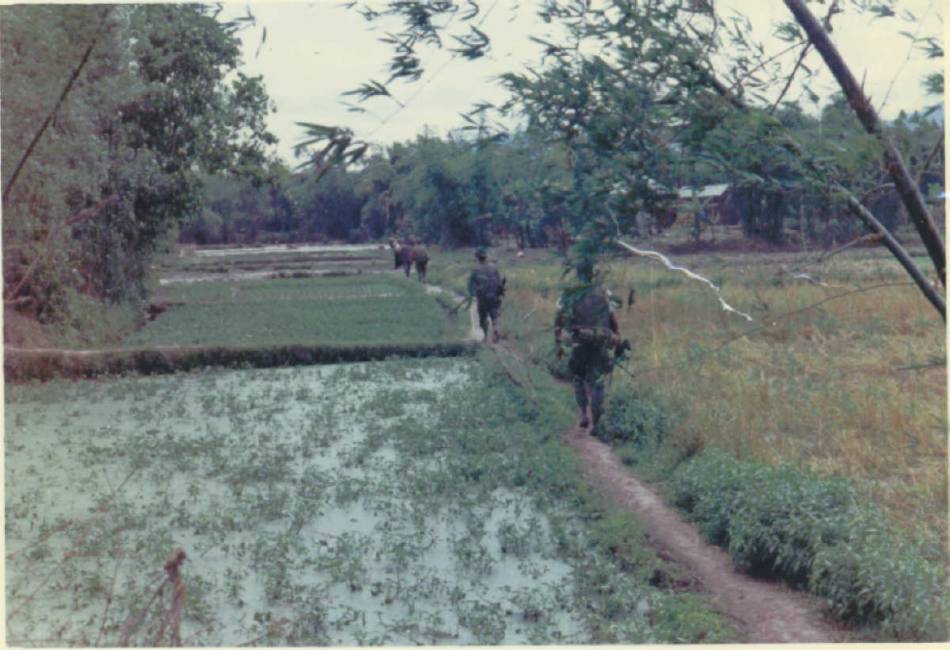 A typical patrol into a village. Typical is a pore chose of words. Here are some of the none combat things you have to know. In this photo you can see a couple of homes on the right. Notice that the homes have tin roofs, instead of the usual leaf. These people are reasonably wealthy. They have been here for a long time. Someone old will live here. There son should be a ARVN, and not here. It looks like they are growing vegetables here. So they are feeding more than two people. There are probably grand children living here. These people should be out in the open rice paddies working with the other villagers.
We don't want to see people in here. We are patrol through friendly villages. We need to notice these things, as well as when and where these people have lunch, what time they come in for dinner. We have to knew when they cook. Haw many people normally live in a home of this size. When should people be here. Those are just a few of the things you learn in a hurry.
You unknowingly question a VC and let him go, he will be the VC that kills you next week. You shoot some one in here and there not VC, you are in deep shit. The most important thing of all, for us. Don't walk through a dam booby trap!
---
Neither the United States Marine Corps nor any other
component of the Dept. of Defence has approved,
endorsed or authorized my web sight.
© Copyright 2002 by Billy Joe Churchwell.